Today, one of my favorite and one of the most creative bloggers I know is sharing one of her amazing dinner recipes with us. With my quickly growing family, I love recipes like this that are easy, delicious, and that can be saved for later.
Make sure that you head over to Theresa's blog to check out even more yummy recipes!
---
I'm happy to be guest posting for Joanna and meet the readers of Motherhood and Merlot. My name is Theresa Huse I blog over at DearCreatives.com. Today I thought I'd share an easy recipe that anyone to make for dinner or ahead of time, then heat up for serving. This meal can also be made for freezing. Today's easy recipes meal is Chicken Enchiladas With Red Sauce.
It doesn't have to be Cinco de Mayo for us to make and enjoy Mexican Food. Mexican cuisine happens to be my daughter's favorite foods. Living in Central, CA. we have access to some of the freshest farm fresh vegetables and chilie peppers around. For this dish we are making it easy and using mild canned enchilada sauce. I know like many moms our kid's taste buds don't like spicy foods and neither do we after having a baby. I haven't met a child that didn't like my homemade enchiladas. For anyone with Mikey's (picky eaters) out there it's, kid approved!
Easy Recipes:
Chicken Enchiladas With Red Sauce;
Easy Recipes: Chicken Enchiladas With Red Sauce
 Supplies And How To:
I'll share a few tricks I use in the kitchen to speed things up. You can make your chicken the day before and reserve some from a dinner you make. You'll find a recipe I shared for roasting chicken works perfect for this on my blog. Another thing you can do is use pre cooked rotisserie chicken from the store or deli. You know, semi-homemade.
For freezing enchiladas dish whole I use pans from the grocery store. I sometimes take portions to freeze for after school meals after the meal is cooked. Perfect for days we have lessons. When making this dish I gather all my supplies together at once and set up my assembling area which cuts down on the time it takes.
Groceries You'll need:
Enchilada sauce – mild/red 32 oz. can (and I always get a small extra can in case I need more)
Precooked chicken *3 cooked breasts skinless, boneless
Corn Tortillas (at least 1 dozen)
Mexican three cheese pre shredded I get the large one
Mild Diced Green Chilies (Ortega)
Non Stick Cooking Spray
Optional items can include one onion to saute prior to starting and sliced black olives
If you rather you can top with traditional Mexican cheese and even make them vegetarian by substituting with black beans and corn instead of chicken. This is a very adaptable dish. I make mine several ways. Like spicy? Add chopped jalapenos.
Kitchen Tools:
non stick pan/skillet
knife
bowls
microwave (optional but, preferred for heating tortillas)
oven
fork
plate
paper towels or napkins
13 x 9 Baking Dish
a ladle type of spoon
cutting board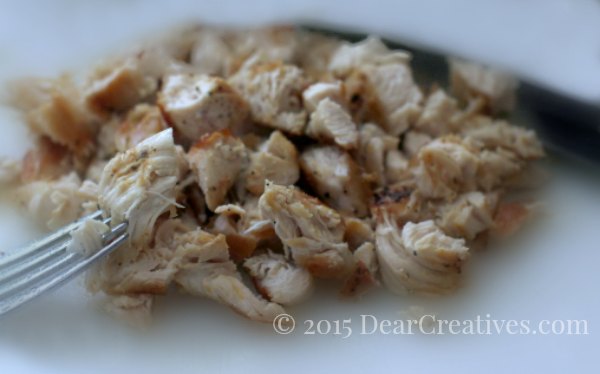 Easy Recipes: Chicken Enchiladas With Red Sauce
Directions:
Shred or cut your chicken into bite sized pieces
Place your pre shredded cheese in a bowl
Open and warm your 32 ounce can of red sauce in a non stick pan until warm but, not hot
Microwave your tortillas warming them until soft (do 3-4 at a time)Put on plate cover with paper towel that is sprinkled with water-this creates a steam keeping them moist which helps for rolling them. When they are warm they won't break and they will be more pliable.
Next pre spray your baking dish with a non stick spray (11 x 13 baking dish *affiliate: Pyrex are my favorites!). Add some warm sauce to cover the bottom of the pan but, don't over soak. Then begin to roll your tortillas by placing some chicken in the center, adding cheese and if you like adding sliced black olives or sauteed onions.
One by one roll them by folding the outsides of the tortillas that were filled to center (over food in the center), then turn down each until your pan is full. Finally add shredded cheese on top garnish with diced green chillies. Bake at 350* for at least 30 minutes. If you need to cook them longer to melt to heat entirely lightly cover with foil tented over top so they don't dry out! Tent to keep cheese from sticking to foil.
Enjoy topped with sour cream, and make a salad in advance to serve with your meal. Using for a dinner to serve many guests? Just add Mexican rice to your meal plan, guacamole.
Hope you enjoyed today's guest post. DearCreatives is a lifestyle blog where I share recipes weekly, along with beauty and fashion, crafts and DIY projects. When you drop by let me know how you found me!
My daughter's favorite is with green sauce which I have already shared how to set up and make enchiladas on my blog, which is perfect for anyone who has never made them before as it's complete with step by step images.
Do your favorite enchiladas have red or green sauce? 
---
Thanks so much to Theresa from Dear Creatives for sharing this delicious recipe! Enchiladas are one of my favorites and this recipe does not disappoint.
*Cheers to finding yummy new dinner ideas*