When Bev from
Linkouture
asked me to participate in this fun little Friday activity, of course I said "yes"! For one, it gives me a chance to ask her fun questions that most people may not know the answers to on her blog, and she gets to do the same for me here! So all of you can get to know some of my deepest secrets… well, not really. But you do get to know a little bit more about me!
If you haven't checked out her blog, do it! She is so creative, adorable and makes some INCREDIBLE jewelry:)
In case you don't know, #AskAwayFriday was started by Penny of Real Housewife of Caroline County as a way for bloggers to connect to one another. Each week bloggers pair up and ask each other 10 questions. It is currently hosted by Tamara from Tamara Like Camera, Tiffany from Mrs. Tee Love Life Laughter, Christy from Uplifting Families, Stacey from This Momma's Ramblings and Amber from Bold Fit Mom.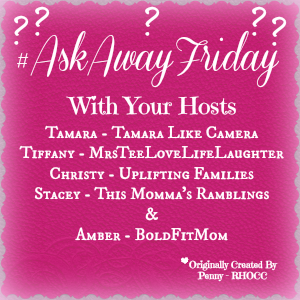 You can read my questions for Bev on her blog today. And now, onto Bev's questions for me!
Q: What does a typical day look like for you?
A: My day starts with getting up and enjoying a cup of coffee before my girls wake up. The rest of the day is filled with mommy duties combined with spending time on the computer with the blog and with my Master's program. I usually throw in some cleaning here and there because I am an admitted clean-freak.
Q:What is the most daring or bravest thing you have ever done?
A: I am probably the least daring person on the face of the earth. I hate heights, speed, the dark, small spaces, anything involving getting too dirty, and I have a completely rational fear of insects… I'm lame, I know. So, I would say the most daring thing I've done on a personal level is go para-sailing or maybe touring a really deep, dark cave.
Q:What is your go-to bottle of wine?
A: Ohh, this is a tough one. I would say Rex Hill Pinot Noir is one that will never let me down!
Q:What book(s) are you currently read? If you are not reading one right now, what did you read most recently?
A: I recently read "Breaking Free" by Beth Moore, which is an amazing book by a Christian author, especially for women who struggle with letting issues of their past go. I really want to read "Gone Girl" and "#GirlBoss", so those will be my next up!
Q:You find yourself with an entire day to yourself and no access to internet. How would you spend the day?
A: I don't even know what I would do with my life! No kids, no internet… pretty much my life:) I would probably go to lunch with some friends, maybe throw in some shopping and a good bottle of wine in a room with only my favorite music playing.
Q:Like you, I went to graduate school for counseling (though I didn't end up pursuing that career!) What inspired you to want to become a therapist?
A: I have always wanted to work with children and actually started college trying to purse a career as a pediatrician. However, science is not strong suit. But, I found that I am a really good listener, especially when it comes to children. So a career as a family and child therapist stuck out to me as a perfect fit!
Q: I have sadly never been to Arizona, but I would really like to visit it some day. What areas would you recommend I visit? What is something I should do that tourists don't typically do when they come to visit Arizona?
A: I know a lot of tourists go to the Grand Canyon, but Sedona is also a must-see place. It is so stunningly beautiful and has a tons of activities to do. Old Towne Scottsdale is tourist heaven, but it is one of my favorite places in Arizona.
Q: What do you love most about being a mom? What do you find most challenging?
A: I love the fact that I get to watch my girls grow every single day and have a constant reminder of how God blesses us. I find the lack of any sort of alone time or silence to be the most challenging.
Q:I stole this question from another blogger's AskAwayFriday awhile back: share a recent picture and the story behind it.
A: This is a photo of my little family at the fair this past weekend:) As usual, my oldest has a million stuffed animals around her and her sister has to sit in the top of the stroller because the stuffed animals obviously have priority to my almost three-year-old.
Q: What beauty or fashion tips would you offer to other moms of young children?
A: Don't feel like you're not allowed to dress up or put make-up on because it takes too much time away from your kids or you're too tired. I get what it's like to be exhausted, but throwing some make-up on, even if it's just a tinted moisturizer, mascara and lipstick, as well as putting on actually pants that aren't classified as "yoga pants" will make you feel 10X better! Also, don't pass up something in the store because you think "I'll never get to wear that." If it makes you feel beautiful you will find a place to wear that bad boy! Get it:)
*Cheers to going with the flow and a great glass of Pinot*